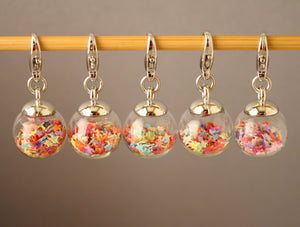 fripperies & bibelots
We Are All Made of Stars Stitch Markers for Crochet
These gorgeous stitch markers are made from bubble shaped glass vials and are filled with a rainbow of tiny stars and are sure to lend some cute sparkle to your knitting.
Perfect for crochet or marking rows or individual stitches as they have a clasp which makes them removable.
These markers are approximately 7/8" or 2cm long (excluding the clasp) with a clasp that also will fit knitting needles up to 4mm/US6 size needles.

Picture shows markers on a 4mm/US6 needle.

Set of FIVE on a colour coordinated safety pin mounted on card.
CAUTION ~ THESE STITCH MARKERS ARE MADE USING HOLLOW GLASS SO CARE SHOULD BE TAKEN WHEN USING/STORING.
ALSO AVAILABLE WITH RINGS FOR KNITTING.  PLEASE SEE THE DANGLY STITCH MARKERS SECTION!