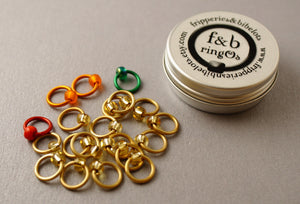 fripperies & bibelots
ringOs Traffic Light Lace - Gold - Snag-Free Ring Stitch Markers for Knitting
ringOs are snag-free ring stitch markers for knitting that glide on and off your needles and won't dangle or tangle in your finer lace and sock yarns.

ringOs are made from lightweight anodised aluminium rings and adorned with beautiful seed beads which are glued in place over the join.

Traffic Light Lace is a special set of TWENTY ringOs and are especially for marking repeats on lace shawls/stoles etc.

The red and green rings help to mark the beginning and end of shawl or special edging sections and also the wrong and right sides. The orange rings can help identify central spines or sections of the pattern that need to stand out if you need to change to a different chart. The gold rings mark your pattern repeats between the red, orange and green rings. Each standard set comprises of TWENTY rings ~ one red, one green, two orange and sixteen gold rings.

SET OF TWENTY rings come packaged in their own cute round aluminium screw top tin and will comfortably fit needles up to 4.5mm/US7 (a 5mm/US8 needle will fit but touches the bead slightly).
---
More from this collection