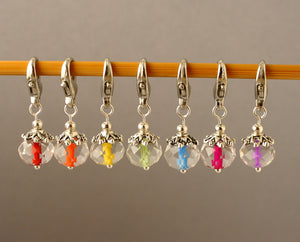 fripperies & bibelots
Inner Glow Stitch Markers for Crochet
Simple faceted crystal clear beads set off a rainbow of coloured cores and give an inner glow to your knitting.
Perfect for crochet or marking rows or individual stitches as they have a clasp which makes them removable.
These markers are between approximately 5/8" or 2cm long (excluding the clasp) with a clasp that also will fit knitting needles up to 4mm/US7 size needles.

Picture shows markers on a 4mm/US6 needle.

Set of SEVEN on a colour coordinated safety pin mounted on card.
ALSO AVAILABLE WITH RINGS FOR KNITTING.  PLEASE SEE THE DANGLY STITCH MARKERS SECTION!