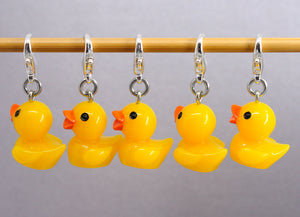 fripperies & bibelots
Five Little Ducks Stitch Markers for Crochet
Five little ducks went knitting one day, onto the needles and far away!
These gorgeous resin ducks will help keep your stitches in check.
These markers are approximately 2cm or 3/4" long (excluding the ring/clasp) with a clasp that will fit up to 4mm/US6 size needles.

Picture shows markers on a 4mm/US6 needle.

Set of FIVE on a colour coordinated safety pin mounted on card.
ALSO AVAILABLE WITH RINGS FOR KNITTING.  PLEASE SEE THE DANGLY STITCH MARKERS SECTION!