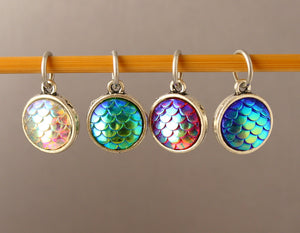 fripperies & bibelots
Dragon & Mermaid Scales Stitch Markers for Crochet
***PLEASE NOTE THESE MARKERS WILL COME WITH CLASPS FOR MARKING CROCHET NOT RINGS AS PICTURED.  IF YOU REQUIRE RINGS FOR KNITTING PLEASE SEE THE DANGLY STITCH MARKERS SECTION.***
Dragons and mermaids and fishies. Oh my! These scaly beauties will be a fine catch for your knitting!

These stunning double-sided (same both sides) acrylic cabochon stitch markers are truly beautiful and the photo just doesn't do them justice. The cabochons come in a variety of colours clear AB, blues, green, purple and red and you will received a RANDOM MIXED SET of four different stitch markers. Colours cannot be custom selected.

These markers are between approximately 5/8" or 1.5cm long (excluding the ring) with a ring that will fit knitting needles up to 4.5mm-5mm/US7-8 size needles.

Picture shows markers on a 4mm/US6 needle.

Set of FOUR on a colour coordinated safety pin mounted on card.