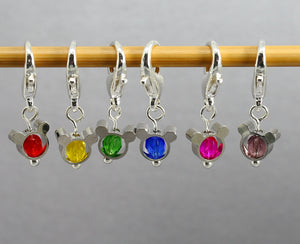 fripperies & bibelots
Dinky Things Stitch Markers for Crochet
Dinky things, the perfect description for these tiny cute stitch markers, that became their name!  A stainless steel bead frame filled with a rainbow of crystals to help you keep track of your stitches discreetly. They also bear a striking resemblance to a certain very famous mouse?!
These markers are approximately 1cm or 1/2" long (excluding the ring/clasp) with a clasp that will comfortably fit up to 4mm/US6 size needles.

Picture shows markers on a 4mm/US6 needle.

Set of SIX on a colour coordinated safety pin mounted on card.
ALSO AVAILABLE WITH RINGS FOR KNITTING.  PLEASE SEE THE DANGLY STITCH MARKERS SECTION!