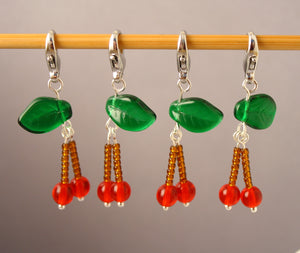 fripperies & bibelots
Cherry Bomb Stitch Markers for Crochet
These gorgeous stitch markers are the bomb and will be the cherry on top of your knitting!
These markers are 3cm/1 1/4"/ long (excluding the clasp) with a clasp that will also fit knitting needles up to 4mm/US6 size needles.

Picture shows markers on a 4mm/US6 needle.

Set of FOUR on a colour coordinated safety pin mounted on card.