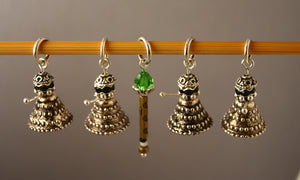 fripperies & bibelots
Army of Daleks Stitch Markers for Crochet
Extermi-knit! Extermi-knit!

This army of daleks will try to take over your knitting so it's lucky there's a sonic screwdriver at hand to help you keep them in line!

Perfect for crochet or marking rows or individual stitches as they have a clasp which makes them removable.
These markers are approximately 2-2.5cm or 3/4-1" long (excluding the ring/clasp) with a clasp that will comfortably fit up to 4mm/US6 size needles.

Picture shows markers on a 4mm/US6 needle.

Set of FIVE on a colour coordinated safety pin mounted on card.
*PLEASE NOTE PHOTO SHOWS THE DALEKS WITH RINGS, THIS SET WILL COME WITH CLASPS FOR CROCHET*
ALSO AVAILABLE WITH RINGS FOR KNITTING.  PLEASE SEE THE DANGLY STITCH MARKERS SECTION!