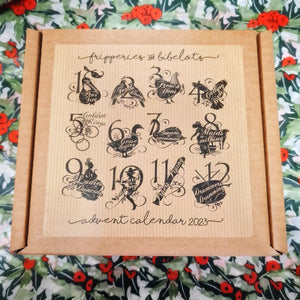 fripperies & bibelots
f&b Advent Calendar 2023
Revel in the Twelve Days of Christmas with the 2023 f&b Advent Calendar.
Presented in a kraft labelled cardboard box, there are TWO OPTIONS for 2023.
KNITTERS ADVENT CALENDAR = As for previous years, this is a traditional 24 day option which offers you a surprise every day in the run up to Christmas Day. Choose the option KNIT-24 from the drop down box.
CROCHETERS ADVENT CALENDAR = There is also a 12 day/half advent option.  This set is only made with clasps so that they can be used with crochet (though the clasps will fit knitting needles up to 4/4.5mm) and is aimed at those who crochet who would not find the ringOs in the knitting set useful. 
Your gifts are carefully packaged and numbered in coloured envelopes so ready for you to open each day.
A little surprise, just for you or a lovely early gift for a knitting friend or family member, in the run up to Christmas!
Box measures approximately 18..5cm x 18.5cm x 7.5cm.
All Advent Calendar orders are packaged in special cardboard boxes and are sent tracked and insured as standard.  Postage will be calculated at checkout depending on your location. If you wish to order further items from the shop, these will probably cost you no or only a little more postage.
Please be aware that international (especially EU countries) postal deliveries are still suffering delays, so please be patient and use the tracking number allocated to your order to track your calendar's progress through the system either via Royal Mail or your home postal service tracking facility.
---
More from this collection